Mô tả sản phẩm


This product, high-speed transfer rate of about 2.8 times compared with the conventional 11n (theoretical value). It can be transferred in a short time a large amount of data, is also smooth playback of high definition video over a wireless LAN. Since even the conventional standard 11n / a / g / b-board equipment can be connected, without Kaikaeru the wireless equipment you have, you will be appointed the easy comfortable wireless LAN environment.

This product, with a Giga port of maximum transmission speed 1,000Mbps to the WAN side. In the case of the port of the WAN side is 100Mbps, the speed of 11ac that is not fully utilized, it can fully leverage the Wi-Fi communication. Video viewing on smartphones is also possible to play smoothly without dropping frames.
[Wireless measurement environment] 
PC1: DELL PRECISION M4600 (Intel Core i7 2.4GHz / memory – 8192 MB) Windows7 Pro (32-bit) 
PC2: NEC LaVie T330-750 (Intel Core i7 2.4GHz / memory – 8.0GB) Windows8 (64bit) 
[ measurement method] PC1 wireless LAN base unit in (Bridge mode) connection in a wired LAN (Internet port).PC2 is connected to the relay machine mode a wired LAN (Internet port), wireless LAN base unit (Bridge mode) and relay the handset is connected wirelessly (11ac). SW IxChariot ver 6.25 sp1 at PC1 → wireless LAN base unit (Bridge) → measured to calculate the average three times the communication between the relay machine cordless handset → PC2. 
(2013/11, our research) ※ communication distance, speed depends on the environment.
※ Wi-Fi, the effective speed of wired depends on the environment of your Internet access.
※ Switching Hub part of the LAN side is the maximum transmission speed of 100Mbps.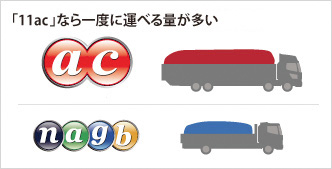 ■ high-speed wireless LAN standard as "11ac" is
a "11ac" is a new technology for high-speed, which is underway, developed by the Institute of Electrical and Electronics Engineers (IEEE).By Radio Law amendment of March 2013, it can now be used as high-speed wireless LAN standard "IEEE802.11ac" even in Japan. By the "bandwidth expansion", "multi-level modulation signal", "expansion of the MIMO method", as compared with the 11n of the conventional standard, and high-speed of about 11.5 times (standard maximum value).Security device from digital consumer electronics, such as an automobile, a plurality of devices to each other at the same time, it will be able to connect smoothly to the radio.>> For more information on 11ac, see "11ac feature".

This product is 11ac866 + 11n / g / b300Mbps fast transfer high-power type of wireless LAN base unit corresponding to the ※ of. Because you can use high-speed communications, utilizing the high-speed line speed of light line or the like in full or download on the Internet connection, transfer of large files, you can use, such as a more comfortable playback of high-definition video.
※ maximum theoretical value for the wireless LAN standard is 866Mbps, and does not indicate the actual data transfer rate.
※ of the connection at 866Mbps, it must correspond to the child device also 866Mbps. For more information about compatible slave machine specifications please verify.
※ 866Mbps (standard value) in the case of default 5GHz band, in the case of the 2.4GHz band has become a 144Mbps (standard value).

Wireless LAN speed standard 11n + 11ac uses the MIMO (Multiple Input Multiple Output) technology for transmission and reception by a plurality of antennas. Thus, it is possible to increase the data rate by performing simultaneous communications with a plurality of data communication paths (streams). 
The product, further high-speed transfer is carried out simultaneous communication of two streams, in addition to the usual compatible devices are often wireless LAN 11n / g standard, corresponding to a strong 11n / a + 11ac standard radio wave interference. You can connect it properly using radio waves. TV is connected at 11n / a + 11ac, PC, game machine is connected by changing the route in a conventional 11n / g, it can also achieve a high-speed, comfortable wireless LAN communication in any house equipment.


Supporting a wireless communication function between two wireless LAN master unit. Extension and of the communication distance, it will allow the relay to the blind spot area out of reach of radio waves.

Also available to the relay from the wireless LAN base unit and traditional products of third-party.When connecting with the wireless LAN base unit that had been used until now, of the parent device setting it does not need to be changed. You can use it as before.
※ set of relay function, you need to be performed on the PC.
※ relay possible number of stages 1 stage (parent – child), it will be the only one.
※ When used as a relay machine also, you can use the multi-security in connection with the wireless LAN terminal.
※ If you want to use the relay function, you need a source of wireless LAN base unit is compatible with WPS or AOSS.
※ If you want to use the relay function, you need a source of wireless LAN base unit is compatible with 11n / a or 11ac or 11n / g / b.

If you let the wired port also it becomes possible to use as a wireless LAN terminal, you can wireless of wired devices such as a personal computer. Since there is no time to turn or take a LAN cable you can comfortably use.
■ recommend "relay function plus (this product non-compliant function)" is for those who have more than one AV equipment
this product, it is available as well as a relay machine by changing the operation mode from the setting screen. Your existing basic "relay function" such as the takeover of the radio wave of extensions and configuration information of the router (SSID / Key) is available. 
In the "relay function" of this product, relay machine can be turned ON the power of the "DLNA (server and client) communication function" network equipment can have in and far away to be able to network playback of recorded program via the "WOL (Wake On LAN) function "does not offer any. If you would like these features to use, the product corresponding to the "relay function plus" is recommended.
※ This product is the "relay function Plus" is not supported.
※ You need to wired LAN connection the WOL-compatible devices, such as when recorder and TV relay mode.


First, download the dedicated app "QRsetup" (free of charge) to the smartphone-tablet.
Just read the QR code that comes with the wireless LAN, it can be connected to security settings of the smartphone-tablet.
In addition, you can complete in only smartphone tablet Internet initial setting of one ways, including the initial setting of the parent device.


Corresponding to the "AOSS" of wireless LAN-touch connection method. Wireless LAN base unit and is only troublesome input without wireless LAN pressing a button on the wireless LAN terminal You can start. Nintendo DS, a game machine, such as PSP®, already equipment AOSS is installed, such as a printer or a variety of digital consumer electronics, of course, you can easily connect a wireless LAN PC or Mac of wireless LAN standard equipped with AOSS.
※ smartphone tablet, in devices other than the personal computer, it will not be able to perform the Internet line settings.
※ In order to perform the settings AOSS / WPS, it must correspond to the wireless LAN base unit and wireless LAN terminal both AOSS / WPS.
※ For the method of connecting with AOSS, please refer to each product documentation.
※ It does not guarantee operation in all of wireless LAN built-in laptop.
※ WPS, the corresponding only Windows (and later XP). Mac is WPS-enabled
※ Nintendo 3DS and Nintendo DS are trademarks of Nintendo.
※ PSP® is a registered trademark of Sony Computer Entertainment.

AOSS / WPS to a device that does not correspond, can be connected simply by entering the SSID and encryption key on the back body.Because at the same time AOSS / WPS can also be used, it can respond flexibly to add a variety of equipment.

Radio interference that affects the speed of the wireless LAN. High-speed 11n it does not withdraw the satisfactory performance and interference with other wireless LAN occurs.Radio congestion prevention function scans all channels of wireless LAN radio automatically when AOSS / WPS setting, automatically set to the channel vacant. You can use it to switch to the comfortable radio channel without the hassle.

In mounting the router / bridge automatic switching function, the Internet connection is easier. The presence or absence of the router features of your network environment by automatic discrimination, to switch the mode of the wireless LAN base unit. Manual switchable switch also are mounted on the rear body.
※ When switched to the bridge function, will also be OFF various functions related to the router.

The first time is to use a wireless LAN, equipped with the "Internet @ Start" function of the safe even better internet access for the first time. By connecting the ADSL modem (FTTH Media Converter) a wireless LAN base unit in the LAN cable, to complete it only in connection of the Internet to launch the browser from a PC that is connected with AOSS ※.
※ Yahoo! BB, the case of CATV. In the case of FLET and various optical fiber (FTTH) service, the setting screen will automatically pop-up, to complete the connection by entering the necessary items.

Simply press the AOSS button, even equipment to be connected to connect the equipment that is not only corresponding to the security of the highest encryption level that corresponds to the "equipped with a multi-security function. Lower level of encryption is automatically set, and each device It can be mixed available at each encryption level without reducing the level of encryption.

And WPA2, industry group Wi-FiAlliance of wireless LAN announced in September 2004, is more powerful wireless LAN security standards.Has a WPA compatible with the conventional standard, we have standardized the "AES" wireless LAN encryption scheme. Currently, in the encryption scheme that efficient decoding method has not been found, wireless LAN in peace are available.

Time you do not want to use time and to use the Internet, set to suit your life, equipped with a "Random power-saving" function that is caused to the energy-saving operating in Random is after. If you register the off time for each day of the week in the setting screen of this product will make this product in automatic daily on / off power saving a. Also if you want to emergency use when off, it is safe because it turned on instantly by simply pressing the AOSS button. Also, if you use a user-defined mode, wireless LAN [on and off] in accordance with the utilization form, WAN side wired LAN [Giga · 100Mbps · off], LAN side wired LAN [100Mbps · off], LED lamp [ON-OFF ] and the details can also be set. And Saturday and Sunday are fully open, noon you can use that only on wireless LAN as for children of game night.
You can easily set the power saving features from the browser. You can migrate to the standby mode to decide the day of the week and time, can be set or a fine-grained set the time zone in which only wireless LAN can connect.


Corresponding to the DDNS service of Buffalo that access by the URL is also possible without obtaining a fixed IP "Buffalo Dynamic DNS Service (surcharge)".

It is in compliance with the reference value of the "RoHS Directive" Restriction of Hazardous Substances directive for electrical and electronic equipment that was in force in the EU from July 2006.